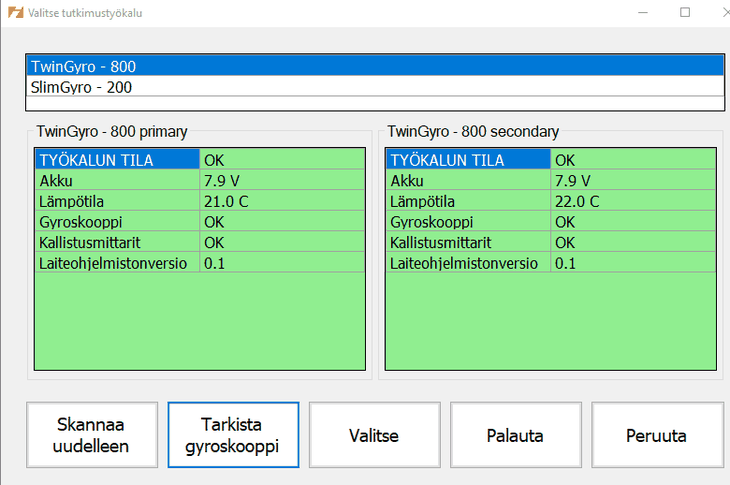 Gyroskooppiset mittausjärjestelmämme ovat nyt saatavilla suomeksi!
Gyroskooppiset mittausjärjestelmämme ovat nyt saatavilla suomeksi! Mittausohjelmistot ja käyttöohjeet ovat saatavilla kokonaan suomeksi, joten meillä on nyt suomenkieliset vaihtoehdot suosituimpiin paketteihimme, kuten BlastGyroon ja maailman johtaviin slimline-tuotteisiin, kuten 25 mm:n täysin integroituun SlimTwiniin. Meillä on kattava valikoima tuotteita ja tarvikkeita kaikenlaisten porareikätöiden kartoitukseen, mukaan lukien:
- Kairanporaus / timanttiporaus
- RC-poraus
- Räjäytykset / tuotantotoiminnot
- Injektointi / suihkutusinjektointi
- Paalutus
- Ankkurointi
- Öljy ja kaasu
- Geoterminen

Suomen lisäksi muita täydellisiä kielivaihtoehtoja ovat englanti, espanja, ruotsi ja venäjä. Jos haluat lisätietoja, ota yhteyttä meihin tai yhteen jälleenmyyjistämme.




Our gyro survey systems are now available in Finnish! With the survey software and manuals available completely in Finnish we now have native Finnish options for our most popular packages such as the BlastGyro and world-leading slimline products like the 25mm fully-integrated SlimTwin. We have a full range of products and accessories for surveying any type of drilled hole operations, including:
- Coring / diamond drilling
- RC drilling
- Blasting / production operations
- Grouting / jet grouting
- Piling
- Anchoring
- Oil & gas
- Geothermal

Apart from Finnish other full language options include English, Spanish, Swedish and Russian. For more information contact us or one of our distributors.